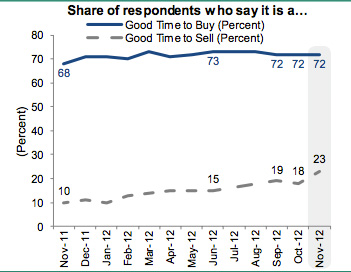 The Fannie Mae National Housing Survey for November showed some surprising news in a report released yesterday.  A recent study revealed that Americans are displaying more confidence in the housing market and economy than previously shown, which is good news for if you are trying to sell a home in Chicago.  It's even better news if you hope to purchase a Chicago property!
According to Melanie Giglio, at Sergio and Banks Chicago Real Estate, there has been an increase of buyers in the past year and especially lately. Giglio said, "I feel that people that were on the fence about what to do because of the volatile market have now realized we are probably at the bottom pricing of the market."  She continued by adding that "It [the market] will more than likely go upward from this point on and the fact that the interest rates are still extremely low, make it the ideal time to consider buying."
Giglio also noted that interest in new construction on single family homes has increased, saying, "I am seeing a ton of action and interest with my new construction listings as well as getting these homes under contract before construction is complete! This is not normal for most new construction!"  In terms of home sellers, Giglio feels that  they are more realistic on pricing and have a better understanding of the housing market, resulting in the observation that "homes are selling much faster."
The November survey illustrated an increase of five percent in respondents that believe now is a good time to sell a home (now at 23%) as compared to October, the highest percentage since June of 2010! Those surveyed also felt that mortgage rates will be increasing soon (41 percent) and 37 percent believed home prices would increase, while 14 percent believed home prices will decrease in the next twelve months. An increase of confidence in the ability to be approved for a mortgage was seen, as well, with 51 percent of respondents believing approval to be possible.
Doug Duncan, senior vice president and chief economist of Fannie Mae reflected that, "Consumer attitudes toward both the economy and the housing market continue to gather momentum, with many of our 11 key National Housing Survey indicators at or near their two-and-a-half-year highs." He also stated that the reports shows that "attitudes about the current selling environment continue to improve, with a significant increase in those saying it would be a good time to sell."
And, though it may be a good time to sell your Chicago home, buyers are also excited about recent opportunities in the Chicago housing market.  Forty-eight percent of current renters surveyed expected increases in rental prices and 67 percent reported that they would purchase a home if confronted with the need to move. Click here to access the Fannie Mae November survey data and graphs or call our office at  773.235.6100 for specialized information on a Chicago home or neighborhood.